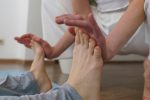 Everyone's heard of massage, but not everyone knows about the different kinds of massage. So today I'd like to explain what remedial massage therapy is, and answer the commonest questions people have.
What is Remedial Massage Therapy?
Remedial massage is based on the Swedish massage tradition, but with a particular focus on treating issues rather than simply general relaxation. (That's what 'remedial' means, after all!) Remedial massage often treats a particular condition such as frozen shoulder, arthritis, a painful knee, a sports injury or so on. But it's also helpful when you don't have a specific diagnosed condition. You get a very thorough, precise all over massage, which irons out any areas of tension or knots. And most of us can benefit from that to help with our busy lifestyles! Before treating anyone, I interview them to learn about conditions and circumstances. As a trained and qualified masseuse, I also identify knots and tight spots during massage, so work on them appropriately. Remedial massage at A Holistic Healing Centre is always tailored to your specific needs.
Does remedial massage therapy hurt?
The short answer is, it depends who's doing it! Some people believe "no pain, no gain'. Not me. I believe in minimum pain, maximum gain. So if I'm giving a massage, and you say it's too hard, I reduce the pressure. Everybody's sensitivity is different. Also, sometimes you don't know a spot is tender until you apply a bit of pressure.
How long is a remedial massage therapy session?
The commonest session duration is probably an hour. Some people, if they've been before, might only need a half an hour top-up. But in this case, I need to just concentrate on one part of the body. So if you're looking for overall well-being, you'll need the full hour. If I'm treating a specific injury, a half hour may be enough on follow-up visits.
Do you have to undress?
Clients do have to undress, but I respect people's modesty. I usually just tell people to get undressed down to their undies – and I give them privacy to do it. Then whatever areas of the body I'm not working on are covered. Usually I use towels to cover you. Sometimes, if it's very hot in the summer, just a sarong.
What kind of oils do you use in remedial massage treatments?
I use a water disposable almond oil for massage. That means that it washes easily out of the clothes.
Additionally, I use a combination of essential oils, depending on where the person's at physically, mentally & emotionally. That's because I'm giving a holistic treatment. It includes remedial massage as a core element, but it's much more than that. Some people worry about acne or skin problems from the massage oil, but it's quite rare. In over thirty years, only one or two people have developed a little redness. And in that case, I use an alternative oil. Also some people already know they have sensitivities to certain oils, so if they tell me, then I don't use that particular oil.
How many remedial massage sessions does it take to feel results?
You usually get some results after the very first session. It just depends on the problem – how long it's been an issue, whether it's ongoing, whether you're putting strain on your body still. Those all affect how much treatment is needed. Some people just come once. Some people might have a series of treatments weekly – others choose to have a regular monthly treatment as a way of keeping healthy & nipping any problems in the bud. Take a frozen shoulder, for example. That's usually between 2 and 8 treatments. But 8 is very rare. Back pain is another common complaint. Sometimes it only takes one treatment to resolve. But usually if people are in pain, I like to recommend acupuncture as well as remedial massage. Combining acupuncture, massage and aromatherapy gives a much more powerful and potent treatment than just remedial massage on its own. If you're in pain, it can be very difficult to handle any deep work because it's too painful. Whereas, once acupuncture has released many things on different levels, including an endorphin release, then I can work a bit more deeply without it being painful. So the combined treatment tends to reduce the number of sessions because I can work more effectively in each session.
Are there times when you shouldn't have remedial massage?
Sometimes, if you are really sick, you might not feel like anything except to be in bed. But if you're well enough to come and have the treatment, then usually it's beneficial. If you're pregnant, you can still have massage all the way through. There are special techniques I use. Also, I have supports for women who can't lie on their front so easily later in a pregnancy.
---
So there you have it. There are lots of different remedial massage therapists, and each one will treat slightly differently. But if you decide to try A Holistic Healing Centre, you can rest assured that:
your massage won't hurt
your modesty will be respected
only pure, water-disposable oils are used
holistic treatment will keep the number of sessions to a minimum
Start feeling better. Book a remedial massage treatment today.