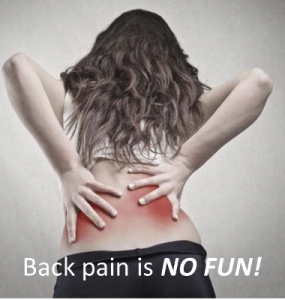 Treating back pain is big business. And there have just been major changes to the guidelines on how to do it.
Wendy Harmer discussed back pain with Professor Chris Marr on ABC Radio Sydney. These are some of the highlights:
25% of Australians have experienced lower back pain on a daily basis.
Half of us have had back pain in the last month.
Back pain is the leading reason why people leave the workforce early.
Old guidelines for treating back pain
Traditional guidelines, which have been in place for decades, recommended simple pain medicines such as paracetamol or anti-inflammatories. Surgery was also an option for more severe cases.
But now the guidelines have changed for two main reasons.
There is 'an escalating prescription opioid crisis'. In other words, people are addicted to painkillers!
Research shows most pain medicines have little to no effect compared to placebo for people with lower back pain.
Revised guidelines
Dr Traeger, a researcher from the Musculoskeletal Health Group at the University of Sydney's School of Public Health, says the new guidelines represent a major shift in treatment.
"If you have an uncomplicated case of recent-onset LBP (lower back pain), your doctor may now simply provide advice on how to remain active and non-drug methods for pain relief such as heat and massage, and arrange to see you in two weeks to make sure the pain has settled.
"If your pain started a long time ago, they might suggest treatments such as yoga, exercise or mindfulness as treatment. Other effective options could include spinal manipulation, acupuncture, or multi-disciplinary rehabilitation programs.
It seems that mainstream medical advice is at last recognising the value of natural therapies for treating back pain.
Challenges of treating back pain in the Australian medical system
But there are still problems with the Australian system. Both Professor Chris Marr and Dr Traeger are concerned that Medicare does not fund the newly recommended treatments. A change in policy is required to make them more affordable.
Ironically, at the same time private health funds will be cutting coverage of a whole range of natural therapies. The Sydney Morning Herald reports that from 2019 they won't cover therapies 'including aromatherapy, Bowen therapy, Buteyko, Feldenkrais, herbalism, homeopathy, iridology, kinesiology, naturopathy, Pilates, reflexology, Rolfing, shiatsu, tai chi and yoga.'
Notice the overlap with the new recommended treatments for back pain?
There won't be any changes until 2019. And it appears that health funds may still continue to cover acupuncture and remedial massage. So the impact on clients at A Holistic Healing Centre is limited. But it's sad to see policy so poorly aligned with both our philosophy and new medical guidelines.
The Australian Traditional Medicine Society is encouraging consumers to make their support for natural therapies clear. Please visit their Facebook page to learn more.